New Book: KILLING SOPHIA
– Consciousness, Empathy, and Reason in the Age of Intelligent Robots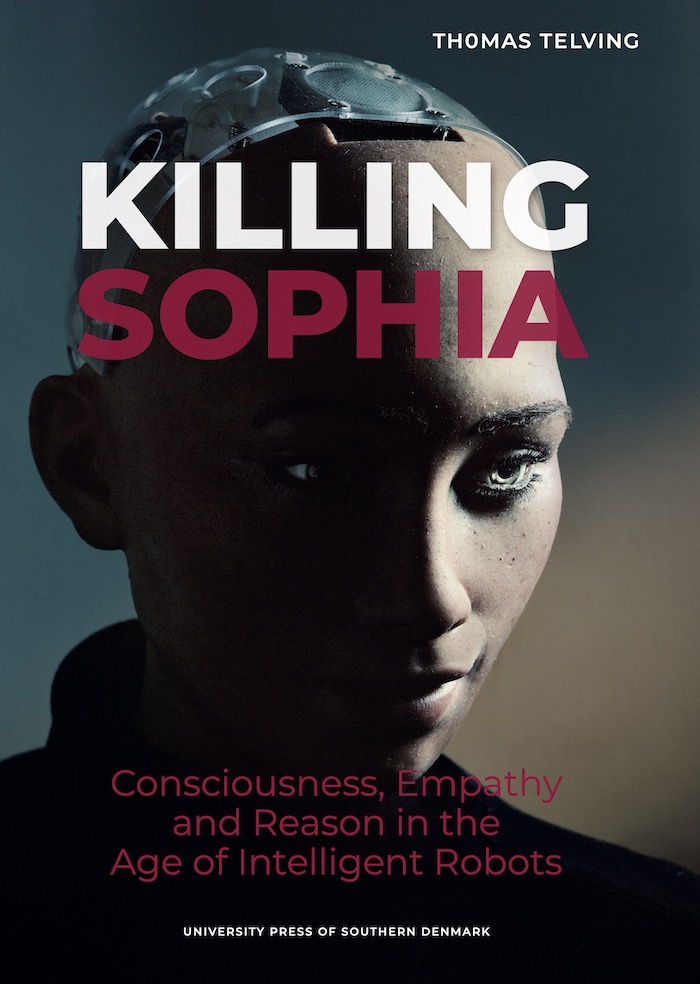 Using a philosophical framework, Thomas Telving convincingly presents a number of pitfalls following a large increase in human-robot interaction.

– Tobias Larsen, PhD in Computational Neuroscience from the University of Bristol and senior data scientist at Oviva AG
Humans and Robots
Can robots develop consciousness? Is it harmless to develop emotional bonds with intelligent technology? Does it make sense to talk about ethics and rights for robots? New technologies raise big questions. Our answers to them will heavily impact the future of human civilization.
In the book Killing Sophia, published by the University Press of Southern Denmark, the Danish philosopher and tech debater Thomas Telving entertainingly tackles some of today's most important questions regarding artificial intelligence and roboethics.
He strongly warns against believing that human-like robots are alive, which might lead us to assign rights to the technology. A topic which has already been discussed at length in the EU. Thomas Telving also argues points towards risks of commercial manipulation via human-like technology.
Killing Sophia is About …
Consciousness

what do we know about human consciousness and what does it mean for the development of machine consciousness?

Empathy and Anthropomorphism

what do research and practice tell us about how we respond to human-like technology?

Ethics and Technology

how can we put philosophical ethics into practice when developing artificial intelligence and robots?

Robots and Rights

does it make sense to talk about ethics and rights for robots – and what are the positions in the debate?

Policy Regulation

what is the EU doing to regulate the use of artificial intelligence and robots – and is it enough?
The book can be read without prior knowledge of philosophy, artificial intelligence, and Human-Robot Interaction (HRI). It is particularly recommended to undergraduates and high school seniors who need an introduction to philosophical and ethical issues with particular relevance to new technologies and in the research area of Human-Robot Interaction.
Review:
"Killing Sophia by Thomas Telving is a wel- come addition to the growing literature on the human moral treatment of robots. It is accessible, well written, and pro- vides good coverage of several important and hotly debated issues at the intersection of robotics and our moral decision making."
— Kęstutis Mosakas, Vytautas Magnus University
Endorsement:
"The rapid development in (embodied) artificial intelligence is all but certain to change our lives in the coming years. Using a philosophical framework, Thomas Telving convincingly presents a number of pitfalls following a large increase in human-robot interaction. He joins the important roboethic debate on what future we want to live in, and what it takes for humanity to keep the upper hand in shaping it."
— Tobias Larsen, PhD in Computational Neuroscience from the University of Bristol and senior data scientist at Oviva AG
Quote from the Author:
"With Killing Sophia, I wanted to put the discussion about robots and humans into a philosophical framework. I believe that an understanding of some of the basic questions of philosophy is essential in order not to overlook significant consequences of implementing robots and AI widely in society. Much of the debate about ethics and AI is about data, and that is important, but we must be careful that the data debate does not overshadow other important issues. I hope my book can help to do that. Both in academic and research environments and in a broader context."
– Thomas Telving, MA in Philosophy and Political Science, author and consultant
Killing Sophia – Consciousness, Empathy, and Reason in the Age of Intelligent Robots
Pages: 137. Price: 20 $
Publisher: University Press of Southern Denmark
Available in Europe, UK, Ireland, USA and Canada
For shipping in Europe please visit Universitypress.dk
Thomas Telving is happy to give both interviews, talks and guest lectures.
He frequently takes the role as Key Note Speaker at conferences and often visits both corporate companies and public organizations with talks and workshops. He is also an experienced lecturer at both high school and university level.
Contact Thomas Telving directly via thomas@telving.dk or +45 2479 0322.